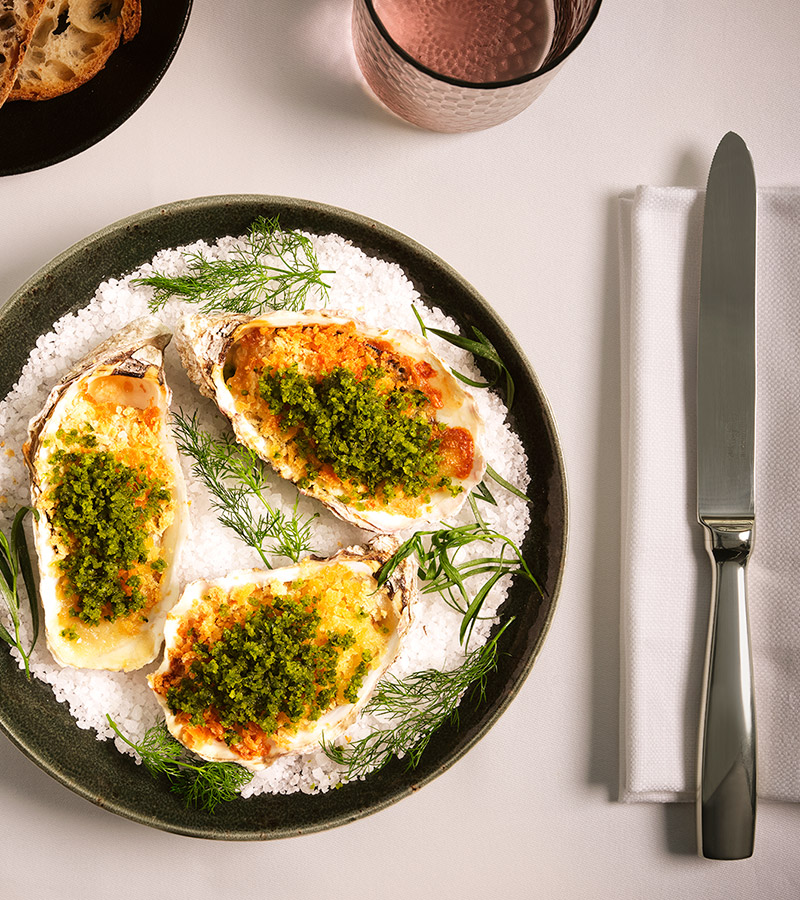 OYSTER ROCKFELLER
PURE LEGEND
The origins of this dish date back to the late 1800s, when at the renowned Antoine's restaurant in New Orleans, chef Jules Alciatore ran out of French snails and decided to replace them with oysters achieving great success.
The dish took the name "Rockefeller" because it involved a very rich green sauce, and at the time John D. Rockefeller was the richest and most influential man in America.
INGREDIENTS
Belon oysters
Panko
Pecorino Romano
Cream
Sweet Pecorino
Fresh spinach
TO BE SAVORED WITH
Classic Martini
RECIPE
Blend the Panko and Pecorino Romano to prepare the breadcrumbs that will coat the oysters. Next, combine the cream and mild pecorino cheese in a double boiler. Stir until the ingredients are well blended. For the spinach grenadine, boil the vegetables in 300 ml water with 50 g sugar. Once cooked, let cool and blend with enough cooking water. Freeze the spinach until the mixture is solid. Top the three oysters with the cheese breadcrumbs prepared earlier and drizzle with a drizzle of olive oil. Bake the oysters in a preheated oven at 190° for 5 minutes and once cooked garnish with a few drops of pecorino cream cheese and spinach grenadine.